Ref.:
SOS 5:1-7; 2Cor. 13:14
The grace of the Lord Jesus Christ, and the love of God, and the communion of the Holy Ghost, [be] with you all. Amen. We have several privileges that fall in for us as believers and as members of the body of Christ. One of such privileges is the ability to host the Spirit of God right here on earth. We are His earthly dwelling place, scripture says (1Cor. 6:19) About Jesus, he was called Emmanuel (
God with us
); and while introducing the Holy Ghost, Jesus told them the Spirit '…
shall be in you
' (Jn. 14:17), not just with you. For the disciples then, it was 'God with men', however, after the resurrection there was an additional edge: God in men.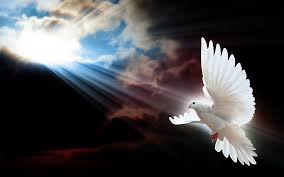 While leaving the apostles with the Great Commission, Jesus urged them to wait for the 'promise' of the Father before any purposeful venture. We all know today that the Spirit of God (the promise of the Father) has since arrived. And we are His earthly lodge – His earthly dwelling – His temple! (1Cor. 6:19). While planning on his departure from this world, Jesus told the disciples the arrival of the Holy Ghost is for the utmost benefit and advantage of the believer (Jn.16:7; Acts 1:8). Paul admonished that we maintain a fellowship of the Holy Ghost (2Cor. 13:14) as a norm. As new testament believers, one other advantage we have is the ability to access God's blueprint for us (His eternal purpose) and the things that Heaven has availed for our lives without requiring any intermediary but by the Holy Ghost (1Cor. 2:12). The Holy Ghost knows the deep things of men and of God. He can lead us aright in the light of the deep things of God – God's perfect will. Communion and fellowship are interchangeably used in this light. In either case, fellowship or communion involves more than one person. In this case, a mortal and an immortal – man and God's Spirit! From our position as mortals, we owe ourselves the responsibility of nourishing this corporate, participatory relationship with the Spirit. It's our duty to continually 'place wood' on the burning altar (Lev. 6:12).
Here's where believers are mostly missing it
You know, sometimes you just want to relax, rest or just hang around with friends or family, then suddenly there's a nudge in your spirit to 'come away' into the place of fellowship and prayer, alone with God. I tell you something, most times that's sure a real interruption and requires a pure willpower to truly yield. In fact, on the average most believers ignore such nudges more often than they respond. And that's one reason I wrote you this piece. Perhaps your principle is to be in bed at certain time of the day, yet He ignores your etiquette and principle by asking for your audience in the secret place. I tell you what… consider yourself highly privileged for God to just want to 'hang out' with you. Sometimes, the nudge might linger for a while (but not forever) then gradually it lifts if ignored. It leaves. What that means is that communion came, and it walked away unattended. It takes sensitivity to trap such moments in your life. If you would immediately respond to such nudge, you'd be trapping a Divine moment or season that probably came unannounced, which could be lost if you ignore such defining moment. This is one of the ways people miss out on visitations (Lk. 19:44) – simply because they think they could have devotion anytime they wish. But devotion is only an aspect of a flourishing intimacy with the Holy Spirit. There's more to intimacy beyond devotion, but never excludes it. I am talking about picking signals, prompt obedience, responding to nudges, etc. This is one unique way of sharpening your discernment which can be employed under different circumstances. If you continuously ignore such moments, you'll come to a point when you'll desire to have just a taste of what used to be normal with you in the past. However, when you make a habit and lifestyle of the secret place, of intimate fellowship with the Holy Ghost, you gradually begin to unconsciously manifest some attributes of the personality you meet continually in the secret place. Then people can see the fruit of the Spirit effortlessly exuding from you; the aura of that personality also accompanies you. You develop good habits from your secret place while undesirable ones dry up without a 'formula'; holy walk becomes a norm; and the supernatural becomes a way of life. That's Jesus' secret life while on earth – the secret place! On a final note, while you should endeavour to make a habit of responding to nudges and to the wooing of the Spirit into the secret place, also deliberately learn to walk into the secret place without a beckon, but simply because you want to 'hang out' with your Father.
Meanwhile, I have a voice note in this regard. Expect it soonest on our facebook page, LightBearers.